I HUMBLY CONFESS TO YOU: I'm addicted to Tweaking!!!

I just can't leave anything alone!
I've already made changes to my cheapy fall decorations. It's not a huge difference, but I'm even happier with them now than I was before.
The boys and I (the boys were reluctant companions on this trip!!) went to the thrift store today and found these little beauties. 
They're cute little wine glasses with a nice twisty type design on top. 
They're fairly sturdy little buggers (unlike the ones I had in the arrangements before) and they have perfectly flat bottoms so I couldn't resist! 
I think the budget will be ok with the purchase - just $2.90 each!! woohoo!

I used some super strong double sided tape and put them on top of some glass bowls that I had. It gave them just the right height.
My next find was this tin medallion type joby. I really like it! It too was only $2.90!! Maybe some day when I'm feeling ambitious I'll repaint it, but for now it makes a nice little background for another fall display I have on top of the entertainment center and hides the hideous speaker pretty well. Of course I forgot to take a picture. Sorry.
Let me also apologize for the dark pictures. I'm new at this photography thing! 
My other finds were toys for the boys for Christmas (assuming I can keep them away from them for that long since they already saw them)

The first one is a perfect Candy Land game which Sammy has been asking for. This one is Pooh and both boys love pooh. $1.90!!!
Lucky Ducks for $2.90!!! I've been wanting to get this for him since last Christmas!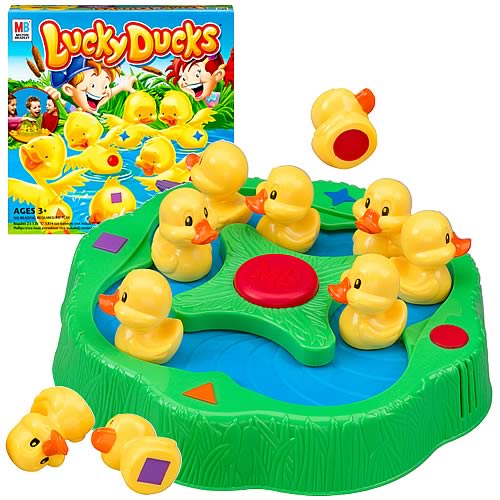 One of Caleb's friends has this phone and he loved it so I was planning on getting it 
for him for Christmas and paid just $1.90!! So exciting!!